Making more than just art
This year it's become much more evident to me just how much our students get the opportunity to do good deeds.  I think JTL has been doing a great job of showing our kids that they don't live in a bubble, and that they can have a positive impact on their friends and community in all sorts of ways.
From the first month of school, we jumped into the game with our Kindness Rocks project, as followers of my blog will recall.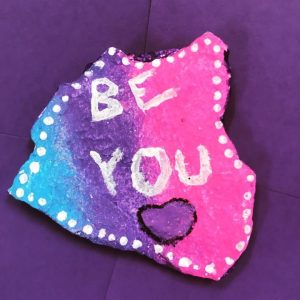 Speaking out against Bullies
Following the Kindness Rocks project, we jumped into Unity Day.  Our kids got to use their artwork to illustrate a very serious statistic- that 1 in 3 kids is bullied.  They had fun, and also made a really big artwork in the process.  On this day, we stood with those kids who don't feel safe at school and said that we know they're out there, and we want to make it better.
More kindness to spread
Every once in awhile it's just nice to get a little surprise in your day.  It can make a difference, even though it's a small gesture.  Following the kindness theme, our kids took the time to write nice messages and post them on lockers, anonymously.  It was a simple thing, an easy thing, but they really enjoyed it.
Cards for Jacob
Jacob Thompson is a little boy in Maine who is terminally ill.  For this, his last holiday season, he requested Christmas Cards, and our kids met the challenge with pleasure.  They made card after card, and by the end of the week we had close to a hundred cards.
Supporting those who support us
Right now, we're encouraging kids to make cards for Cpl Kelly, a State Trooper who was shot in the leg and neck on a traffic stop on Route 33.  It's becoming second nature for our kids to jump in and let their artwork speak.  We're still collecting these cards, and will send them off to Cpl Kelly before the holiday break.
Outside of class
Our kids have also had plenty of opportunities to use their voices for good this year.  From a Penny War to raise money for disabled Veterans, to a food drive for the needy of Monroe County and a Giving Tree for the holiday season, we have a very special group of teachers and students here at JTL who all make the most of what we have, and are always willing to give!